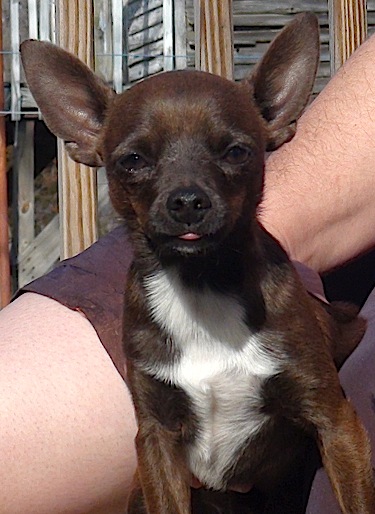 Also see our Stud:
Happy Trail's Belshazzar
Happy Trail's Chocolate Chip ~ Standing At Stud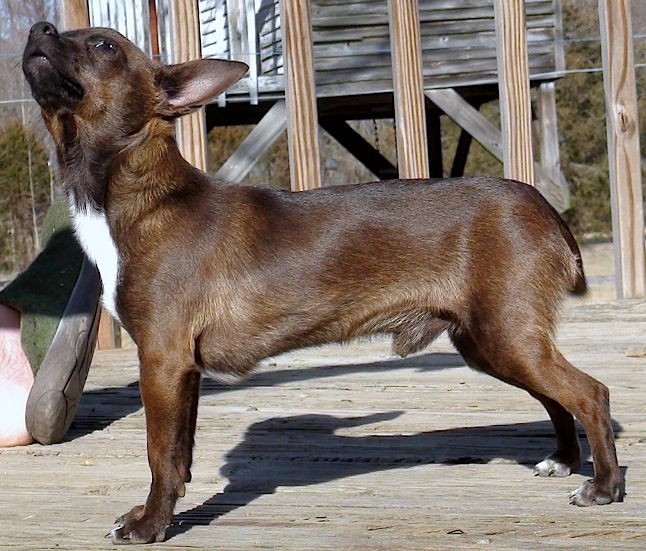 ICA Registration:
PA-ICA-1320260-001
Chip loves to follow you around especially while working the garden. He has a great time chasing crickets and the occasional rabbit. He is somewhat fidgety but enjoys sitting on your lap getting petted. He also enjoys running fast and playing with the other members of his pack. He is a very friendly dog, socialized and people oriented. We see these characteristic passing on to his offspring as well. If you are looking for smaller sized pups, little Chocolate Chip is a good choice for stud.
Chip is just over a 1 year old in the above and right photos. We have enjoy his friendly and active personality. Chip makes friends quickly with other dogs and people after he gets in a few minutes of barking. He is one of the to sound an alarm when he sees a invader in the garden or stranger aproche.
Chip stands:
9.25 inches at the shoulder (withers)
12.25 inches at the top of head
Length:
9.5 inches shoulder to buttocks
Adult weight:
3.75 pounds
See Chips' puppies
Stud Service:
A.) $250.00
B.) $25.00 plus pick of the liter at 8 to 10 weeks
Note: Belshazzar is not a show dog. Our selective breed line is based on temperament, to produce a high quality pet and companion dogs within the Chihuahua breed.
Make sure you carefully consider whether or not breeding is right for you before starting.
You will need to have some money set aside for the necessary health exams as well as any other unexpected medical costs. The necessary costs include the stud fees and the cost of whelping the puppies. The most expensive unexpected cost could be the need for a C-section since the smaller Chihuahuas can have difficult births. After birth it is also important that you take both the mother and her new puppies to the veterinarian for a complete check up to make sure everyone is healthy.
After your mother dog has given birth to the new puppies then your real work begins. You will need to have lots of food on hand for the puppies once weaned and be prepared to get them their vaccinations on time. For the first few weeks you will need to devote a lot of time to both the mother and her puppies. Make sure you weigh the puppies each day and keep tract of their weight. If you notice a puppy isn't feeding then you will need to bottle feed them every two hours.
Requirements:
Your female must weight at least 3 pounds
It must NOT be your dog's first heat
Leave your dog with us for 3-7 days
Bring your dog's registration paper and medical records
Current (within 3 months) Brucella Canis free/negative certificate
Bring your dog's crate and bedding
Supply 3-4 days of food she is accustom to eating